Protect your lab with our trusted Hand Sanitizer a critical step in your protection protocols!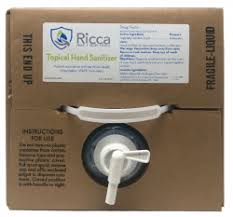 Ricca Hand Sanitizer in 20L and 10L cubes – perfect for desktop, countertop, and lab bench use.
In stock! Contact us for bulk quantities and other packaging options to meet your needs!
It contains 75% Isopropyl Alcohol, which kills 99.9% of germs according to the Center for Disease Control (CDC), including the Human Coronavirus.
• Formulated to meet World Health Organization (WHO) and FDA requirements for effectiveness.
• Manufactured in an ISO 9001:2015 accredited, cGMP, and FDA registered facility.
• FDA compliant labeling, safety data sheet and certificate of analysis available 24/7 on website.
• From Ricca, the brand that has always been trusted, with over 45 years of experience.
Now more than ever you need a brand you can trust for your Hand Sanitizer needs. Ricca is your premier choice!
We have formulated our Hand Sanitizer to meet the WHO and FDA requirements for effectively killing 99.9% of germs including Human Coronavirus.
No Fragrances • No Artificial Dyes • No SLS • No Parabens • No Phthalates
On the other hand; Face Masks, believe to significantly reduce Spreading!!
Take advantage of this unique product while inventory still available.   This product is comparable to what is being used by all Healthcare Labs!
This single-use safety face shield offers eyes, nose, and mouth protection from aerosols, sprays, and splatters. A comfortable elastic band and soft, breathable headband make this light-weight shield comfortable to wear even over extended periods. The transparent, distortion-free PET shield provides maximum visibility and protects lab personnel and health care providers from chemical spills, spits, dust, bacteria, and germs.
Flexible Styl e                                                                                                                                                                                                                 
Anti-fog 0.2mm PET material
Zero obstruction in line of sight
Comfortable foam backing
Durable elastic headband
Can be paired with respirators, goggles and other PPE